Master Plan

---
OBJECTIVE
Closing the Gap 2020: A Master Plan for Arkansas Higher Education, will be presented to the Arkansas Higher Education Coordinating Board on October 30, 2015. The 2015-2020 five year planning cycle adopted in this plan is a critical component in the long-term objective to reach the 2025 goal of a 60% post-secondary attainment rate in Arkansas, increasing from the current estimate of 43.4%. By 2020, we will reduce the educational attainment gap in Arkansas by increasing the number of postsecondary credentials by 50% over the 2013-2014 academic year levels; increasing the number of certificates awarded to 19,200; associate's degrees to 12,700; and bachelor's degrees to 19,900.
Progress Report: Since the approval of the Master Plan for Higher Education in 2015, the Division of Higher Education and public institutions of higher learning in Arkansas have implemented a number of strategies to reach the goals set out in the plan. Contained in this report is the progress made toward the stated goals and a look to the future of Arkansas higher education.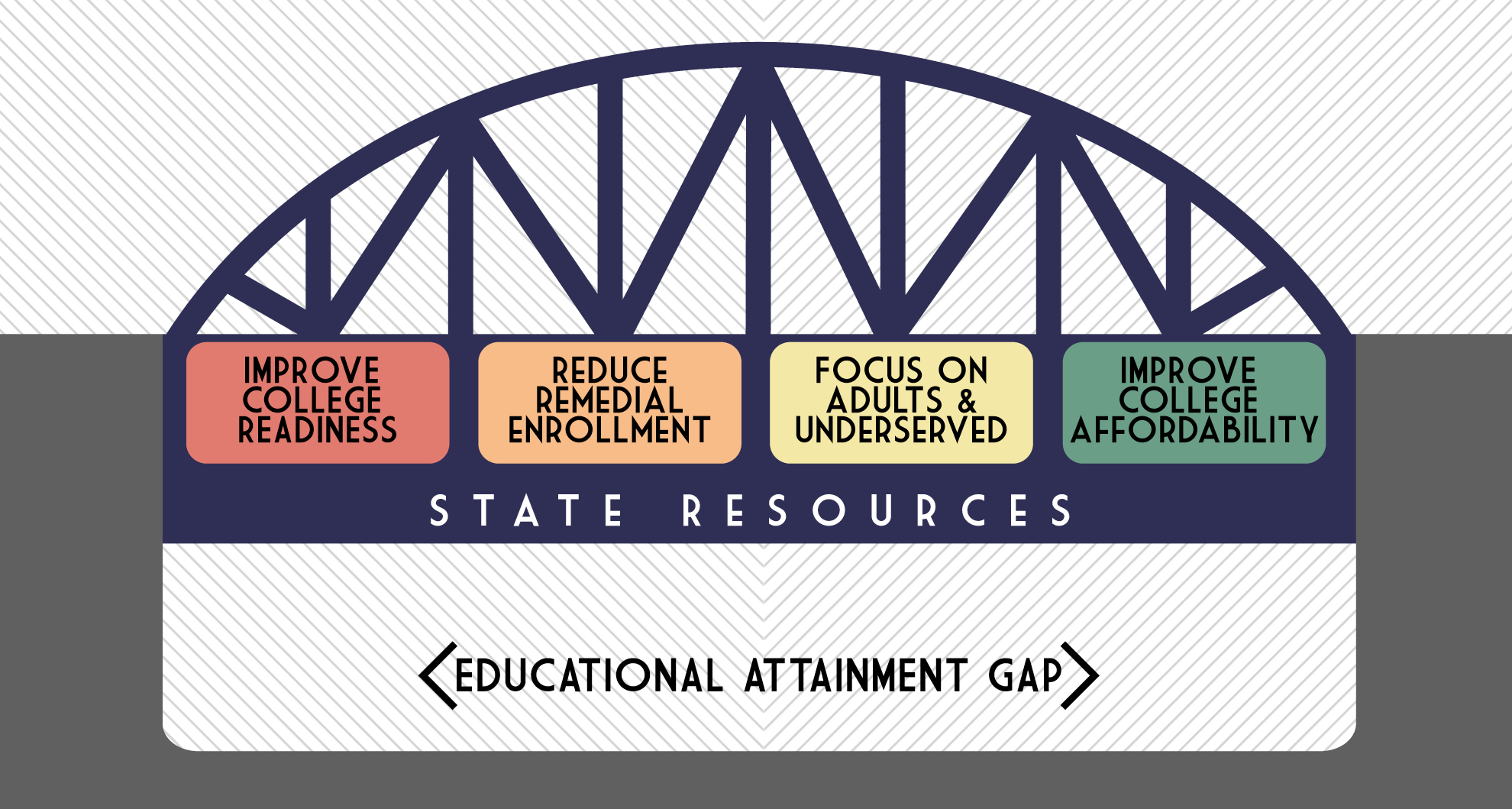 [Click to Enlarge]
Supporting Goals
Below is a draft of proposed goals to be included in the Closing the Gap 2020 Master Plan.
GOAL 1: Raise completion and graduation rates of colleges and universities by 10%.
Reduce the percentage of students needing remediation to prepare them for college-level course work.
Reduce the time needed for students to complete remedial requirements.
Raise first year retention rates of students to SREB regional averages.
GOAL 2: By fall 2018, increase the enrollment of adult students, age 25 to 54, by 75%.
Reduce the remedial course enrollments for adults by 50% through alternative means of preparing adults for college-level work
Improve communication of the value of higher education to non-traditional students
GOAL 3: Raise the attainment rates of underserved student groups in the state by 10%.
Raise the overall college-going rate for all student groups by 5% from 50.1% to 55.1%
Raise the underserved student college-going rate to equal that of other students
Raise completion rates of underserved student groups equal to other students.
GOAL 4: Improve College Affordability through Effective Resource Allocation
Reduced time to degree for students
Allocate 25% of state scholarship funds to need-based programs
Re-allocate institutional spending to maximize efficiency and effectiveness
---
INFORMATION SHARING CONSORTIA
As we develop the Closing the Gap Master Plan, we are seeking input from higher education stakeholders across the state. To join the conversation, choose a topic below to find out more about how you can be a part of this process.